One Man Left is known for putting humorous jokes as loading screens in Tilt to Live. Some examples are shown below.
List of known loading screens
Edit
A Test of Ambiguity
Edit
Do it. Then we'll... you know.
A Test of Clairvoyance=
Edit
Guess how long this screen will be here to advance.
A Test of Devotion
Edit
Purchase more copies of Tilt To Live to advance.
A Test of Endurance
Edit
Avoid hazards in the world around you to advance.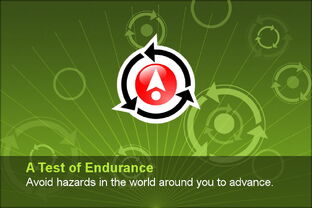 A Test of Etiquette
Edit
Say "please" to advance.
A Test of Finance
Edit
Discover lost change in your immediate area to advance (financially).
A Test of Forgiveness
Edit
Let go of an old grudge to advance. ... We can try again later.
A Test of Geography
Edit
Recite the names of all 7 continents alphabetically to advance.
A Test of Grace
Edit
Rotate your iPhone clockwise, so the spinning icon appears stationary. Neat!
A Test of Harri Sharp
Edit
Do you know Harri Sharp? Neither do we.
A Test of Immortality
Edit
Never delete this app. It makes a great family heirloom.
A Test of Insecurity
Edit
Are you in public? You'll look stupid playing this game.
A Test of Posture
Edit
The 'Regular' position is recommended by 8 out of 10 physicians.
A Test of Priorities
Edit
Feed your children first, THEN play Tilt to Live. In that order.
A Test of Rage
Edit
Become infuriated at the spinning icon to advance.
A Test of Redundancy
Edit
You've seen this one already. It's not funny anymore.
A Test of Stealth
Edit
Hide from your iPhone for several seconds to advance.
A Test of Strength
Edit
Defeat yourself in a thumb wrestling match to advance.
A Test of Talent
Edit
Impress the spinning icon to advance.
A Test of Tests
Edit
Do the tests seem to be working? Yes they are.
A Test of Tranquility
Edit
Relieve a happy memory from your childhood to advance.
Did You Know?
Edit
Real nukes have a much wider effective range than ours.
Mind Blown
Edit
You actually play the villain in this game. The good guys always win.
Ad blocker interference detected!
Wikia is a free-to-use site that makes money from advertising. We have a modified experience for viewers using ad blockers

Wikia is not accessible if you've made further modifications. Remove the custom ad blocker rule(s) and the page will load as expected.